Birmingham Pool Table Moves and Service
Our pool table mechanics at Birmingham Pool Table Movers have been serving Birmingham Alabama for years. We have built a solid reputation with our customers.
We have decades of experience moving pool tables. Be sure that you consider the risks of having your pool table moved by anyone other than a professional.
Pool table moves with our nationally backed company are a breeze!
We professionally tear down your pool table, load and safely move it to the new home. We perform a perfect pool table setup and professionally level the slates and frame giving you a perfectly flat playing surface on the pool table.
Members of the American Billiard Installers Association, we are a recognized business in our industry.
What's involved in the pool table moving?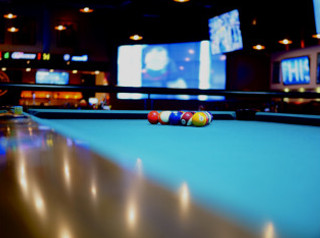 Our tools used to level the pool table after moving it are precise and we guarantee our work. Machinist levels and special tools are generally needed for a smooth move and installation job of a pool table.
Pricing depends on the dimensions of the pool table, the type of move and circumstances surrounding the move.
We are residential and business pool table movers. Pool table moves in businesses may incur extra charges in the event we encounter complicated moves with elevators or have parking issues for your job.
We may charge extra for stairs when moving a 3 piece slate pool table. In some cases, we will not move 1pc. slate tables.
Expert Pool Table Repair
We have decades of experience servicing pool tables and take care of most pool table repair. Every service is guaranteed by the ABIA and all of our technicians have years of experience working in Birmingham and surrounding areas. We have put a chart together with the approximate pool table room sizes to help you find the perfect pool table size for you.
A nice flat-playing billiard table makes a good game
If you are looking for a nice flat-playing pool table then we urge you to call a professional in order to avoid future complications.
Even if you aren't an avid billiards player you still know the benefits of playing on a professionally set up and properly leveled pool table.
We're sure you also know what it's like to play pool on a ragged old, unprofessionally installed and out of balance pool table.
A pool table can be unleveled for a few different reasons.
In our experience, the main problem with any type of pool table service is when inexpert individuals try to move, repair, setup or teardown a billiard table, with no knowledge or professionalism.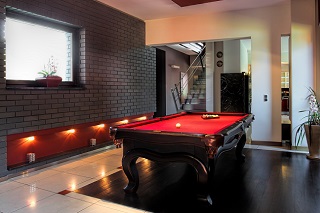 This usually happens when someone decides to perform a "Do It Yourself" tutorial.
In other cases, it happens that a non-professional or "cheap" technician inexperienced in pool table repair caused your pool table repair to be substandard, leveling to be out of balance and sadly, it will continue to cost money to have the pool table repair to be done by someone with the proper experience and tools.
But don't worry, we got you covered. Our technicians are professionally trained and have decades of experience in pool table repair service. Feel free of any risk knowing that you have a 1-year guarantee backed by the ABIA.
The process of moving and installing a pool table must be done by a trained professional pool table mover.
We urge you never to attempt to service a pool table if you are not professionally experienced not only do you risk damage or injury, there is also the problem with the table not being level when you are done moving it, requiring you to call a pool table professional in the end anyway.
The best way of having your pool table repair done right is by calling an expert
The cheapest and fastest way to get pool table service done correctly is to call a professional like us. Our professional pool table movers will set up your pool table with proper tools and shimming techniques according to the type of floor it will be installed on. Each piece of slate will be leveled at an extremely precise level to ensure that your pool table installation will be 100% accurate and flat.
This process of leveling the base, wedging, shimming and tightening screws on the slates takes the experience to be done correctly.
Let Birmingham Pool Table Movers take care of all your pool table needs.
We provide moving services for most pool tables. We move from home to home, business to business or garage to garage for storage. We do complete pool table moves, tear down only, set up or installation only and professional pool table refelting service.
The risks involved in possible damage or injury can be high. Let Birmingham Pool Table Movers take care of all your pool table needs.